Rainmatter partner Civis recently launched the Climate Voices handbook. The foundation had supported Civis to create, publish and disseminate the handbook, that would be a how-to guide on environmental public consultation. Here is Civis' story, their endeavour to make the voices of common people heard in environmental regulation through pre-legislative public consultation, and the relevance of the new Climate Voices handbook – an open-access how-to guide on environment legislation that can help different communities and stakeholders play an active role shaping our climate policies, by team Civis.
We often hear that collective action will play a significant role in addressing grappling climate issues. But did you know that this collective action can also extend to making laws and policies? 
Climate policies shape the trajectory of our planet's future and affect the lives of every citizen. Yet, amid this urgency to address the global crisis, we often overlook a crucial aspect – the power of citizen participation in the making of environmental laws and policies. A transformative potential lies within every citizen and it is essential for us to understand why engaging with policy makers is an opportunity to shape a sustainable future for generations to come. 
One of the ways in which this engagement occurs is by participating in public consultations published by government departments and ministries before a law is finalised. Public consultation is a process of gathering feedback, opinions and suggestions from the general public on proposed laws, policies, projects and other vital issues. This process can help increase transparency and ensure that government is responsive to people's needs and aspirations. They can be held through public hearings, surveys, focus group discussions and virtual platforms. They can be initiated by government bodies such as ministries, departments and regulatory authorities, as well as civil society organisations.
We, at Civis, work in this very area of facilitating effective dialogue between governments and citizens on draft laws and policies to ensure views and interests of citizens are given due regard in this process. 
Founded in 2018, Civis has facilitated public consultations on 390+ draft laws helping over 16000+ citizens from 705+ Indian cities give their feedback and contribute to the lawmaking process. We strongly believe that the process of law making should reflect the views and interests of those who the law affects the most, i.e. citizens. For this, it is important for lawmakers to engage with citizens in the decision making process to ensure the resultant laws are inclusive and foster a sense of community ownership and legitimacy.
Civis and the Rainmatter Foundation recently published Climate Voices, a handbook in five languages, that citizens like you and me can use to participate in public consultations for environment and climate related laws. 
Having conducted extensive public consultations in the environment domain, we observed various trends in citizen engagement over the years. While it was important to spread awareness on an individual's ability to participate in public consultations, equipping them with the tools to effectively communicate their feedback emerged as a pivotal one. This is where the idea of Climate Voices was born. 
The complexity of our climate crises demands diverse perspectives and ideas. The public consultation process allows all kinds of stakeholders to give feedback. Be it someone from marginalised communities directly affected by climate change or even subject matter experts – both groups are given a platform to offer nuanced insights that have the potential to enrich the decision making process. An example of this would be the experiences of fisher folk in Thoothoor village in southern India practising traditional and sustainable methods of shark fishing. While policies were framed for the conservation of certain sharks, not engaging with them before framing the said policy proved detrimental to their livelihood. 
It is also pertinent to note that though climate change affects everyone, its impact is not equally distributed. Some vulnerable communities and citizen groups are disproportionately affected by environmental degradation. We hope that through this process of participatory lawmaking, climate policies are catered to address these disparities and prioritise social and environmental justice. 
Understanding the importance of engaging in meaningful dialogue, we included actionable information in the Climate Voices handbook on how citizens can incorporate their valuable insights that policy makers may otherwise overlook. The handbook also explores what qualifies as quality feedback that can help provide context to issues being legislated upon. It further delves into the roles that civil society organisations and media play in helping citizens understand and participate in public consultations. 
Participatory lawmaking as a concept was formalised 9 years ago by the Pre-Legislative Consultation Policy 2014, and hence public consultations as a mode of citizen engagement is still developing. The essence of democracy is built on the voices of active citizens and our hope is that this Climate Voices handbook proves to be an essential tool in this process.
Climate Voices is available in five languages – English, Hindi, Marathi, Kannada and Tamil and can be downloaded on your phone by sending a WhatsApp message 'climate' to 8976926914.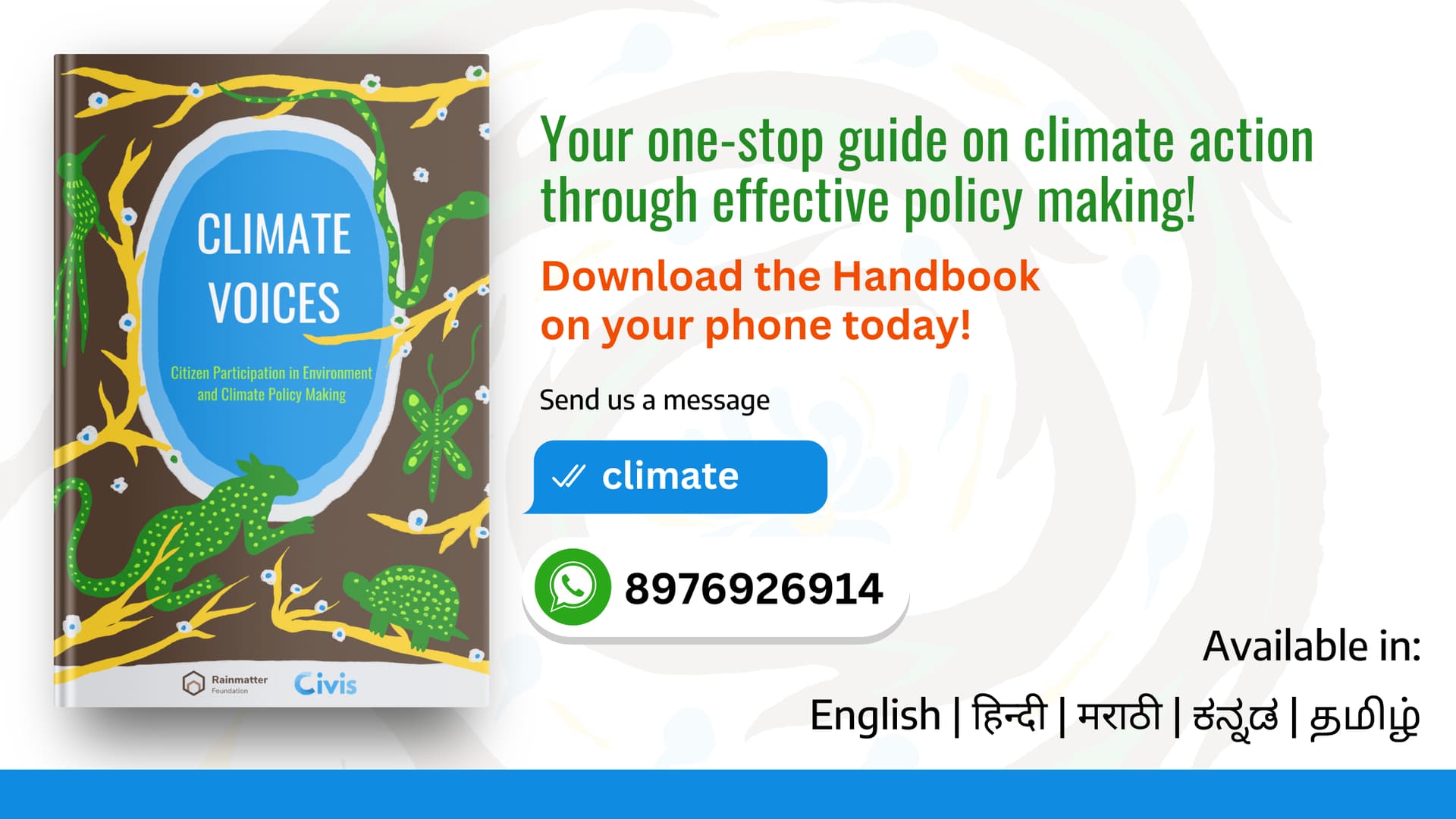 –
Anusree U and Shonottra Kumar
Anusree is an Associate and Shonottra is a Senior Associate from Outreach and Communications at Civis.vote.