землі
(zemli, Ukrainian; land)
'Take these seeds and put them in your pockets so at least sunflowers will grow when you all lie down here.'
The context for these words is what makes them particularly poignant and fierce. The words themselves are as much about angst, defiance, courage, resilience, hope, life, death, triumph and beauty as they are about how land sustains and nurtures us. And this in itself i.e. how to sustain and nurture (people, groups, dreams, goals, lives) merits imbibing, no?
At the Rainmatter Foundation, we spent the month of February exploring our context. We asked ourselves and one another various versions of some of the following (existential) questions: Where are we at? What are we doing here? Is this where we want to be? What would we rather do that is worth doing? The interrogation is ongoing even as a semblance of answers are beginning to sprout, notably, we would like to facilitate an increase in biodiversity, equality, commons, health and livelihoods while helping reduce waste, emissions/carbon, displacement and vulnerability.
Our day-to-day actions added up to what might be considered productive efforts. For instance the Communications 101 workshop (related slides) and this repository of ecological wealth, which documents indigenous knowledge on flora, food and medicine interconnected with research papers from modern science. Do get in touch with Ganeshram ([email protected]) if you would like to chat about this, offer feedback or want to better understand this effort.
We also onboarded Slam Out Loud, an organisation that engages with teachers and artists to create contextual curriculum resources. The team will integrate an arts-based climate action curriculum into their ongoing programs to enable children to understand the impact of climate change. If you engage with kids, do check out these free climate learning resources.
From the community
Sauramandala Foundation has been empaneled by the government of Meghalaya as a knowledge partner for its apiculture program, which aims to equip 100 master beekeepers and 5,000 amateur beekeepers with training and equipment to increase honey production. The team worked with over 50 beekeepers directly to equip them with beekeeping tools, training and colonies apart from conducting pilot training sessions on beeswax cosmetics to enhance their earnings from beekeeping.
Zerocircle harnesses seaweed to create alternatives to plastic bags and packaging. As they say, pictures speak louder than words:
Photos: Neha Jain/Zerocircle
CSEI/ATREE's Urban Lakes Initiative has collated lake data from different sources to identify 1,350 lakes (777 lakes in Bengaluru urban and 573 in Bengaluru rural) in Bengaluru. CSEI/ATREE along with Biome and Friends of Lakes have also created Mira, an initiative to create common digital resources and tools to help citizens learn simple, science-based ways to nurture Bengaluru's lakes. The Bangalore Citizen's Lakes Dashboard is now also available as a smartphone app, Mira: Your Urban Nature Guide. Good karma points if you use the app and let them know how it can be improved.
The Rotary Club Of Bangalore has been working with locals along the Palar river, especially in Guttahalli, to revive a natural spring. The local community has planted about 30,000 native trees on the 60 hectares adjoining the Palar river as part of a larger eco-restoration initiative.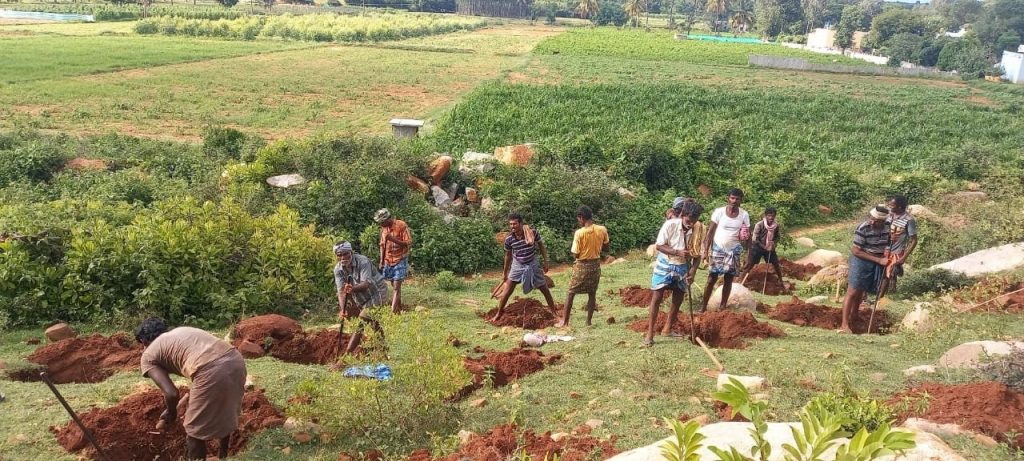 Photo: Rotary Club of Bangalore
Noticeboard
A crowdsourcing request to help build a trustworthy directory of various kinds of service providers. Please add and spread the word on the freelancers and/or organisations you know who work with non-profit organisations for legal, accounting, human resources and technology functions.
(Retd) IFS Giridhar Kinhal and Vidhi Centre for Legal Policy's Mridhu Tandon will talk about the Biological Diversity Act and the amendments that have been proposed for it, on Friday, March 11 at 4pm. Register here.
The Intergovernmental Panel on Climate Change Working Group II's contribution to the Sixth Assessment report assesses the impacts of climate change. This thread, by journalist Disha Shetty, sheds light on  how women are disproportionately affected.
Bengaluru's March temperature has increased by 2degrees in the last 100 years, Dr J Srinivasan tells Citizen Matters in an illuminating tete-a-tete on what citizens and the city should do in the face of changing weather patterns. He also mentions this exhaustive air pollution repository.
SUNO (सुनो) is a virtual exhibit from the Serendipity Arts Festival which asks that we listen deeply to engage, empathise and discover a hidden landscape.
Green Artha is looking for a climate fellow. Details here.
Want to engage with children about nature and climate? Here are some free resources by the good folks at Slam Out Loud.
The Ministry of Rural Development's PMGSY rural connectivity dataset has geotagged more than 8 lakh rural establishments, including agriculture, education, health and transport related facilities.
Mapping Climatic and Biological Disasters in India details the intensity and locations of disasters over a 25-year period. Mongabay has a report on how this data can be valuable for planners and policymakers.
The best $540 we ever spent: A reflection on how an indoor garden made a couple feel connected to one another and to the Earth.
Parting Shot
Carl Sagan's sagely words are a beacon for our times: "In our obscurity, in all this vastness, there is no hint that help will come from elsewhere to save us from ourselves."
Until next time, may your roads be auspicious, śubhāste panthānaḥ santu
-Team Rainmatter Foundation